Study on Northeast China Consumers' Perception of Hong Kong Brands and Purchasing Behavior
Under the sponsorship of the Organization Support Programme of the Dedicated Fund on Branding, Upgrading and Domestic Sales, the Hong Kong Brand Development Council (BDC), in collaboration with the Chinese Manufacturers' Association of Hong Kong (CMA), implemented "Harbin Hong Kong Brand Festival" Serial Activities, aiming to assist Hong Kong brands to explore Northeast China market.
As one of the major deliverables of the Project, the BDC commissioned the Brand Strategy and Innovation Center of Hong Kong Polytechnic University to conduct a series of researches (the Study) during the second half of 2014. The Study's mainstay is a face-to-face survey on 1,005 Harbin citizens by the method of Convenience Sampling, with an eye to understanding the spending habits of consumers in Northeast China, their considerations in the selection process for brands and Hong Kong products/services, as well as the usage of Internet. The BDC also organized a business study tour in Harbin, during which dozens of Hong Kong brand operators visited two representative shopping malls in the City's downtown and a famous enterprise with rich experience in trade and retail. The first-hand information gained during the tour provides insights into the business environment and recent trends in Northeast China, helping to shed light on the strategies for Hong Kong brands to tap into this regional market.
The main findings of the Study are as follows:
1. The average monthly income of the mainstream consumers in Northeast China is in the range of RMB 3,000 to 5,000. Female consumers and the middle class with a certain level of educational attainment would be the most important target segments of Hong Kong-branded products/services.
2. Among various product and service categories, Hong Kong brands engaged in food and beverage, jewellery and watches, fashion, beauty and cosmetics, household items and fine goods, electrical appliances and electronic products, travel and leisure services, catering, Chinese medicine and health-care products might enjoy relatively high popularity among Northeast China consumers.
3. Consumers in Northeast China tend to hold Hong Kong brands in high regard. When it comes to Hong Kong brands, local consumers would usually refer to positive attributes such as "good quality", "high awareness", "comfort and assurance", "trendiness", "good services", "credibility", "innovative design" and "value for money"; yet it is less than agreed that the spokesmen employed by Hong Kong brands are "appealing". Besides, local consumers learn Hong Kong brands mainly via TV advertisements and Internet.
4. Most consumers in Northeast China would accept a 10% premium for Hong Kong brands as compared to similar products under domestic brands and Harbin's indigenous brands. The level of premium acceptable would vary significantly among different age groups and income brackets; for example, people with higher income would be willing to pay more for Hong Kong brands.
5. Relatively high price, geographic distance, insufficient marketing and promotion could be the comparative disadvantages of Hong Kong brands. To the extent that Northeast China is far away from Hong Kong, local consumers deem it less convenient to purchase Hong Kong products, and are much concerned about the inadequate follow-up and after-sales services such as product maintenance and returns. In addition, near half of interviewees pointed out that Hong Kong brands fall short of promotion in the local market.
6. Online platform is an important information source and sales channel for consumers in Northeast China, and a number of them have started to search for or even purchase Hong Kong brands via their mobile phones. They are used to checking the reviews of a brand through ocial media apps on mobile phones, and word of mouth has significant influence on their buying decisions.
7. According to the Research Team, Hong Kong enterprises could leverage on the Northeastern consumers' affection, trust and willingness to pay a relatively high premium for Hong Kong brands; and they should try the best to match the core value and features of their own brands with such positive attributes, so as to identify right market segments and figure out appropriate promotional mode and communication channels that fit in well with the target customers. Meanwhile, Hong Kong enterprises should consider setting up customer services facilities in Northeast China, so as to address the concerns of local consumers. Moreover, the rise of "new media" especially social media should not be neglected. While keeping an eye on the word of mouth for their brands on the Internet, Hong Kong enterprises should look to the integration of on-line and off-line (OTO) brand promotion and brand experiences, so as to enhance the brand awareness more effectively.
(For a full report, please refer to the Chinese version東北消費者對香港品牌的態度及購買行為研究報告)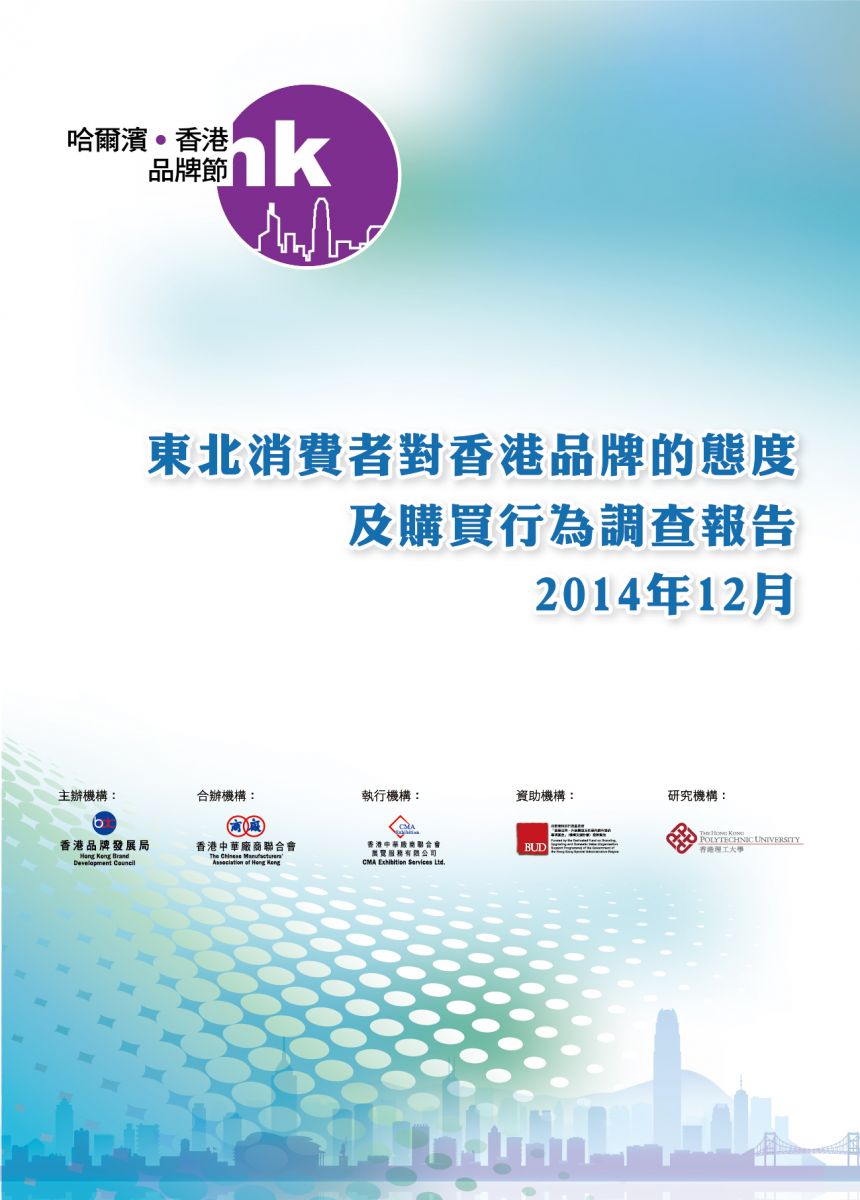 Download "Study on the Attitude towards Hong Kong Brands and Purchasing Behavior of Northeast China Consumers"
Back