Tapping the Market Potential of Liaodong Peninsula: Local Distributors' Perspective and Tips for Hong Kong Brands
Under the sponsorship of the Organisation Support Programme of the Dedicated Fund on Branding, Upgrading and Domestic Sales, the Hong Kong Brand Development Council (BDC) joined hands with the Chinese Manufacturers' Association of Hong Kong (CMA) to implement "Dalian + Hong Kong Brand Festival" Serial Activities, aiming to assist Hong Kong brands to explore the business opportunities of Liaodong Peninsula and the adjacent regions (the Region).
As one of the major deliverables of the Project, the BDC commissioned the Brand Strategy and Innovation Center of Hong Kong Polytechnic University to carry out a series of market researches (the Study) in Liaodong Peninsula in mid-2016, employing qualitative research methodologies to look into the local distribution channel from a multi-dimensional perspective. Apart from documenting the real-life experience of three Hong Kong companies, who came from different industrial sectors and had successfully developed domestic sales business in the Region, the Research Team also conducted in-depth interviews with managements of 10 representative distributors based in four major cities, i.e. Shenyang, Dalian, Dandong and Jinzhou, in an attempt to gather first-hand market intelligence especially the views of channel operators, which would help to shed light on the effective strategies for Hong Kong brands to tap the regional market.
The main findings of the Study are as follows:
1. Hong Kong brands generally do not enjoy high awareness in the Liaodong Peninsula. Nevertheless, when it comes to the impression of Hong Kong brands, most local distributors associated them with positive attributes like "fashion" and "good quality" ; and most of them they had showed interest in cooperating with Hong Kong brand operators. Distributors also emphasised the benefits of conducting direct sales in Northeast China market; and they hence suggested that Hong Kong companies, whenever conditions permit, should directly operate the brands by themselves rather than entrusting with an agency.
2. With the 'flaunt wealth" culture that had prevailed previously fading away, the consumption attitude of Liaodong consumers are navigating towards more rational and rational as well as more focused on brand and price-performance ratio; that is, they are now much concerned about the quality, price, exterior design and services in their purchasing decision. At present, the post-80s and post-90s generations have become the mainstay of the consumption market, with the former attaching much importance to product quality and services and the latter eagerly pursuing personalised items. As for the older generation consumer groups, they are prone to have a higher brand loyalty.
3. Different cities have their own characteristics in terms of market environment and consumer behaviors. Shenyang and Dalian can be classified as middle-range market, pursuant to their relatively strong economic stature. Due to the pluralistic city culture, Dalian consumers are more receptive to foreign brands; while consumers in Shenyang prefer products that are practical and fit well with their personal needs, resulting in a lower sensitivity to brand. In Jinzhou, there is an impressively strong demand for catering services, which is also a manifestation of the City's considerable consumption potential. As for Dandong, a city facing North Korea across a river, border trade is an integral part of local market.
4. Although online shopping has been growing by leaps and bounds at the expense of physical stores; yet there has been sign that such negative impacts have somehow mitigated. Major distributors have pressed ahead with the establishment of their own online business facilities, and many of them are willing to share their internet resources with cooperative brands for free. Meanwhile, the modus operandi of brand marketing is changing, as traditional ways like offering discount is losing to emerging strategies such as experiential marketing and culture marketing.
5. Distributors are looking forward to the positive effects that relevant national policies might bring to the Region. In particular, the coordinated development of Beijing, Tianjin and Hebei would become an catalyst for cross-regional spending of high-end and middle-level consumers; and the implementation of China-Korea Free Trade Agreement would facilitate the importation of Korean products with better quality and price to Liaodong, while intensifying competition in the lcoal market; as for Road and Belt Initiative, which is still in the pilot-run stage with focus on infrastructure construction, its impacts are yet to be seen.
6. According to the distributors, many Hong Kong companies though have set foot on Liaodong a long time ago, few of them have engaged in the market deeply enough, which might be one of the reasons for the insufficient awareness of Hong Kong brand among local consumers. To step up market penetration in Liaodong, Hong Kong companies could learn from the experiences of international brands especially those from Korea, Taiwan and Japan; at the same time, they should try to establish direct dialogues with local distributors through teaming up or under the assistance of HKSAR Government if possible. Also, Hong Kong companies should implement holistic promotional strategy with emphasis on both product functionality and brand culture, while strictly monitoring the implementation process of brand marketing.
7. Several Hong Kong brands that have successfully established a foothold in Liaodong have given some useful tips to companies intending to enter this market, including: seeking Blue Ocean Strategy to fill market vacancies; fully understanding the needs of customers before developing marketing plans; adapting to the changes in the market swiftly; regulating the operation of franchise and reducing intermediary steps, so as to enhance consumer's brand emotional experiences. Also, it is vital for a company to act with integrity and in compliance with the laws.
8. According to the Research Team, in order to tap the market potential of Liaodong, Hong Kong companies should carefully choose the product portfolio and channel mix, in line with consumer characteristics of different age groups and the market environment of different cities; they could also try to make use of the distributor's free resources and diversify their marketing channels. Besides, Hong Kong enterprises are suggested to pay heed to government policies, so as to adjust their strategies and to grasp the associated opportunities timely and effectively.
(For a full report, please refer to the Chinese version 遼東市場攻略:分銷商透視及對香港品牌的啟示)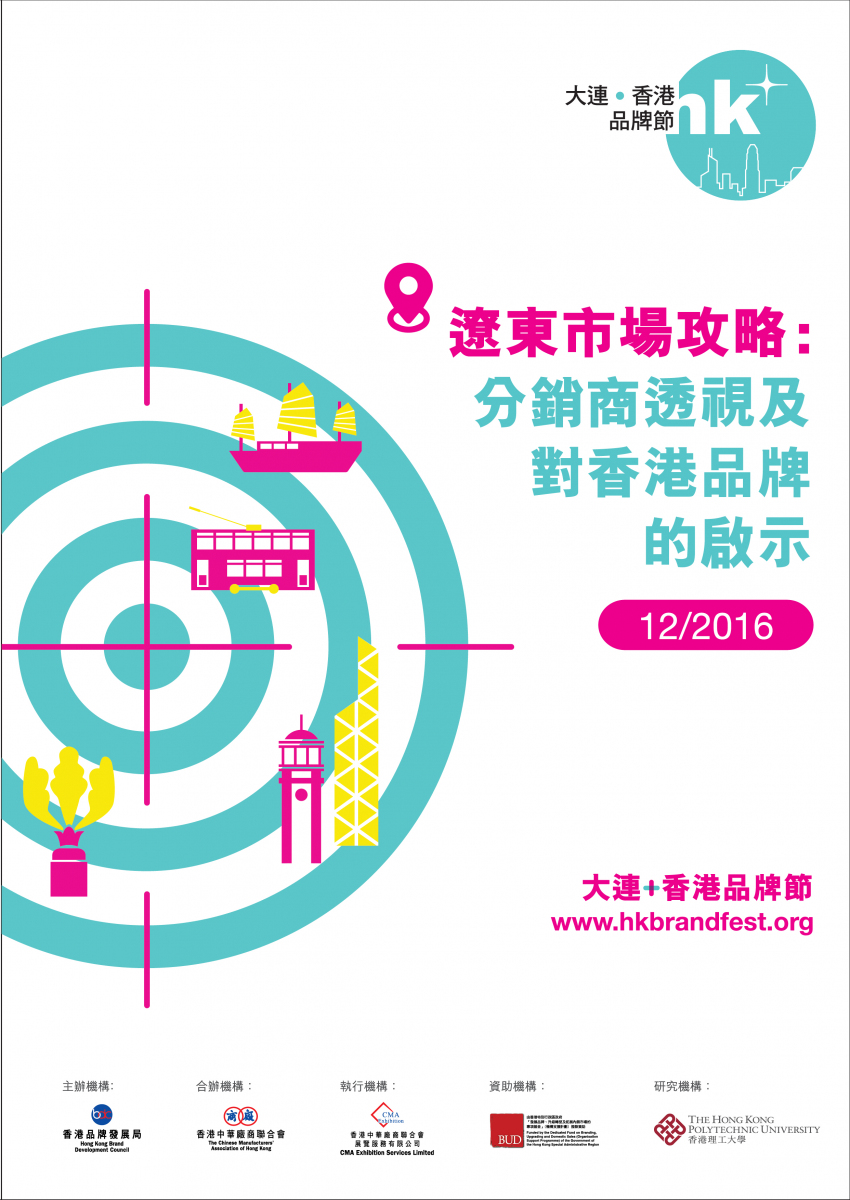 Download "Tapping the Market Potential of Liaodong Peninsula: Local Distributors' Perspective and Tips for Hong Kong Brands"
Back