Understanding Brand Modeling
(Source: CMA-CityU Center for Entrepreneurial Development)
Brand model
•The process through which an abstract picture is generated of what a brand over ideally desires their brand to be.
•It is an overt rather than covert planning.
•The brand model developed can serve as a central reference point for all involved in the brand and for all communication about the brand.
Advanced Brand Model
The Advanced Brand model broached by Chandler and Owen (2002) has four overall territories or zones:
•A clear definition of key aspects of the market context (competitive set, market parameters, market dynamics, market contradictions).
•A clear definition of target audience and what makes them "tick" (brand audience, consumer truth, brand substantiators, brand imagery/values, brand personality).
•A clear definition of key aspects of the brand's core (brand proposition, brand essence, brand position).
•An identification of the brand's overall character that leads towards brand communications.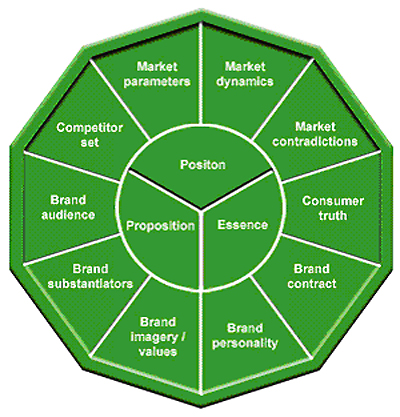 Back