Hong Kong Top Brands
Brand
Coronet
Time of Establishment
2006
Company
Aaron Shum Jewelry Limited
Award (Year)
Hong Kong Top Brand (2010)
Main Product(s)
Fine Jewellery
"Top Mark" Registered Categories
Diamond Jewellery, Wine, Chinese Liquor, Hand Sanitiser
Address
Units 8-12, 1/F, Heng Ngai Jewelry Centre, 4 Hok Yuen Street East, Hung Hom, Kowloon, Hong Kong
Tel No.
2334 2299
Fax No.
2334 7427
E-mail
info@aaronshum.com
Website
www.aaronshum.com
Wits for Win
It's original, it's the best! — Dr Aaron Shum, President of Aaron Shum Jewelry Limited.
Company Profile
Aaron Shum Jewelry Limited was founded in 1985 and launched the brand "Coronet" in 2006. Each piece of Coronet is made of 7 high-calibre diamonds, impeccably assembled with no prongs to hold the centre diamond. This worldwide-patented design, together with precision of cut, symmetry, and polish, attributes to the best fit and proportion that conceives a luminous solitaire diamond effect. Dedicated to integrating diamond into daily life products, Coronet has innovated different kinds of products, such as diamond handbag and diamond glass; and more recently, it has extended product portfolio to wine and perfume series.
Track of Glory
In 2015, Coronet became the first jewellery brand in Hong Kong and the second one in Asia to be housed at the prestigious Hall 1 of Baselworld, where its diamond guitar staged a grand launch and was honoured with the "Guinness World Record" title of being the most valuable guitar in the world. Embarking on a global tour of exhibitions, Coronet Diamond Guitar was well-received around the world; and it was highly appreciated by Jermaine Jackson of the legendary band "Jackson 5", who fascinated audience with it at the finale concert in London.
Over the years, Coronet's serial masterpieces were honoured with the "Guinness World Record" titles of being "the most valuable guitar", "the guitar with most jewels", "the handbag with most diamonds", "the sunglasses with most diamonds", and "the toilet with most diamonds". In early 2021, "Coronet Museum Boutique" with brand-new concept was opened in the world's largest shopping mall "Dubai Mall" on the Khalifa Tower.
Recently, Coronet has achieved a new milestone in product diversification. It has partnered with a hundred-year-old Turkey organic food brand, which has a self-owned farm, in introducing a series of organic food; and a wholesale centre with an area of 1,500 square feet has been set up in Hong Kong.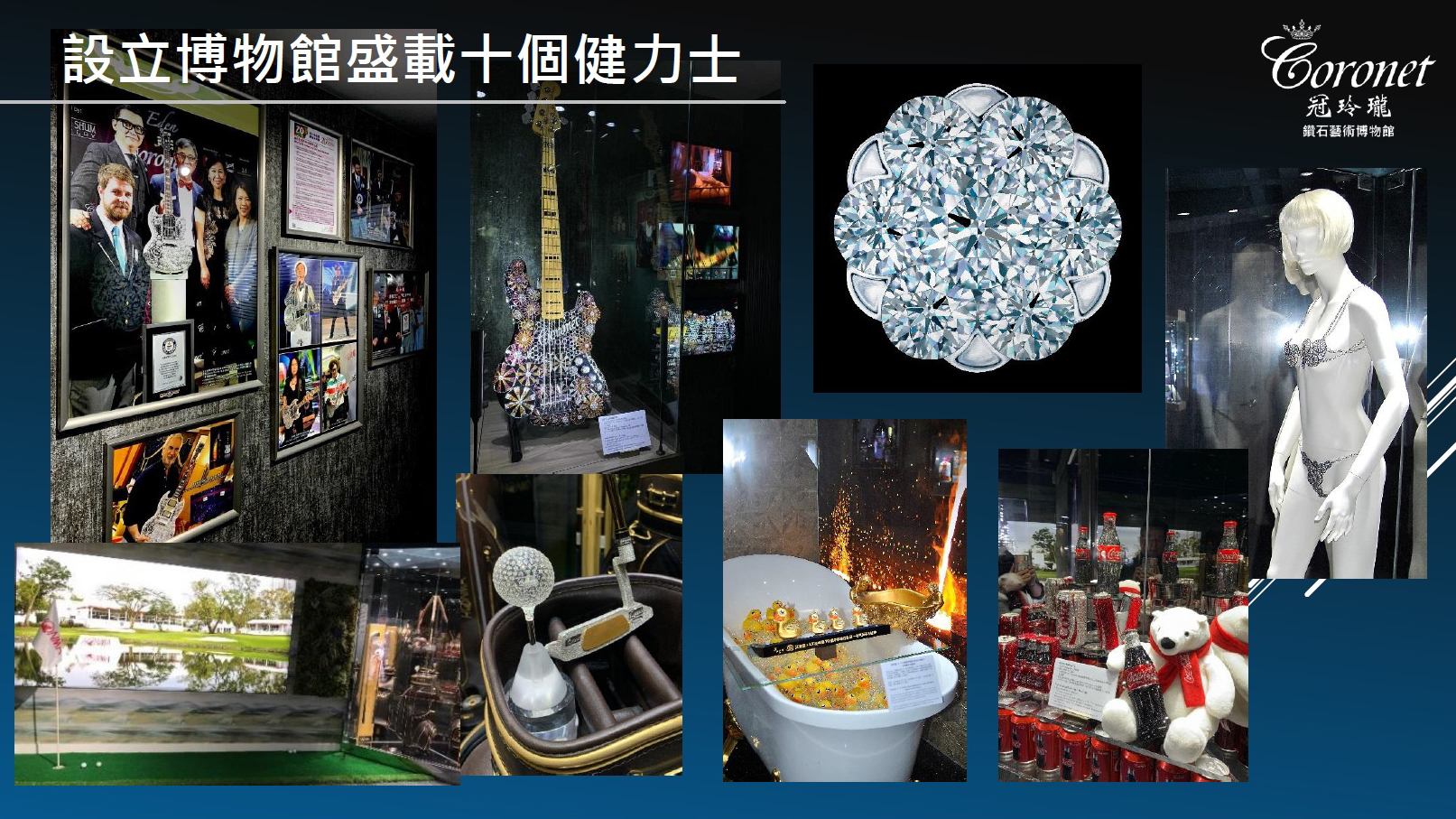 Back